Disposable Surgical mask(Classification: type II, CE marked)
Apply to General Protection, Hospital workers, doctors and Patient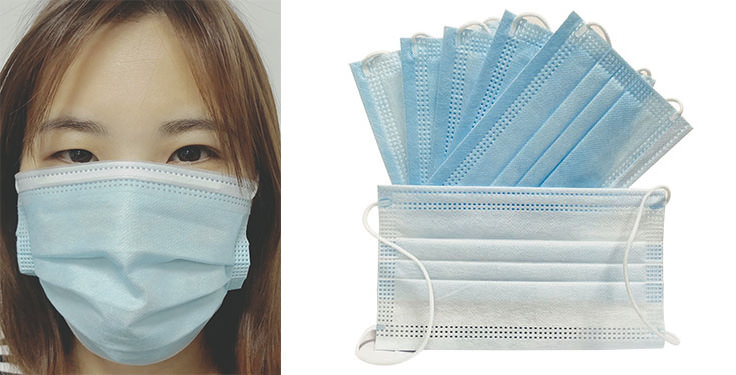 Product Specifications: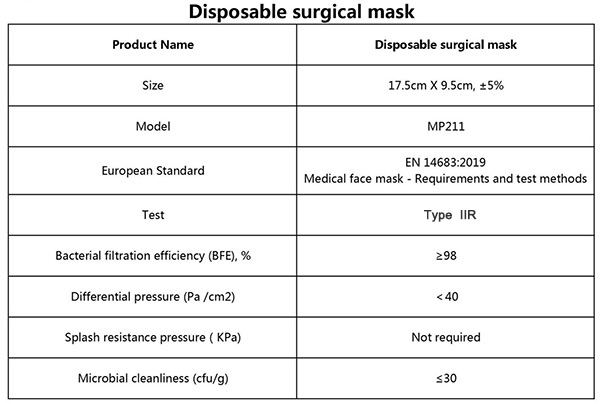 【Product Size】17.5cm * 9.5cm
【Warranty Period】Two years
【Package】10 pcs/bag, 5 bags/box,10 boxes/carton
【Box Dimension】25cm*11.7cm*11cm
【Carton Dimension】27cm*25cm*62cm
【Gross Weight】3.14kgs, Net weight: 2.14kgs
User Guide:

I. [Structure]
Composed of nonwoven fabric layer, filter material (melt-blown fabric), nose clip and mask belt.

II. [Application Scope]
For doctors, patient and healthcare workers to wear it, covering the user's mouth, nose and jaw, penetration of pathogens, microorganisms, body fluid particles, etc.
III. [Usage]


1. Open the package and take out the mask. The mask has white and blue sides. When wearing the mask, the white side is facing in, and the metal strip is facing up. After wearing, gently pinch the bridge of the nose to make the mask close to the face.
2. Check whether the packaging is intact before use.
IV. [Contraindication, note, warning and notice]
1. The valid period of the product is 2 years, please use within valid period.
2. Do not use the product if you are allergic to it.
3. The body of mask is not touched by the fingers/hands of the wearer.
4. This product is for single use. Dispose of it according to the requirements of medical waste management.